I was reminded the other day as I read my Bible that God has instructed us "to give thanks in all things". I just wonder how many people have never heard this as they are always grumbling and complaining – have you ever met anyone like this? It is so easy to be influenced by these people so I make a real effort to give thanks. Here is a list of things I say to myself when I am tempted to be negative.
I may never see tomorrow… there's no written guarantee… and things that happened yesterday… belong to history.
I can't predict the future… I cannot change the past… I have just this present moment… I must treat it as my last.
I must use this moment wisely… for it will soon pass away… and be lost to me forever… as part of yesterday.
I must exercise compassion… help fallen to their feet… be a friend to the friendless… make an empty life complete…
The unkindest thing I do today…may never be undone… and friendships that fail to win… may nevermore be won.
I may not have another chance… on bended knee to pray… and thank God with a humble heart… for giving me this day.
"O, what a beautiful morning,
O, what a beautiful day,
I have a wonderful feeling
Everything is going my way." Rogers & Hammerstein
Gosh, life would be really different if we could sing this song each day but sadly for many of us nothing seems to ever be going our way. Well, do not let yourself despair when things are looking grey, just hold your courage high, it may be bad but stick it out, you'll overcome by and by. For life is full of ups and downs, not roses all the way, and even though the cloud appears, keep smiling come what may. Don't think that you're the only one who's had it really rough, there's lots of people in the world who've had more than enough. But strength is given by unseen hands if you stop and pray, and God will lead you through the storm towards a brighter day.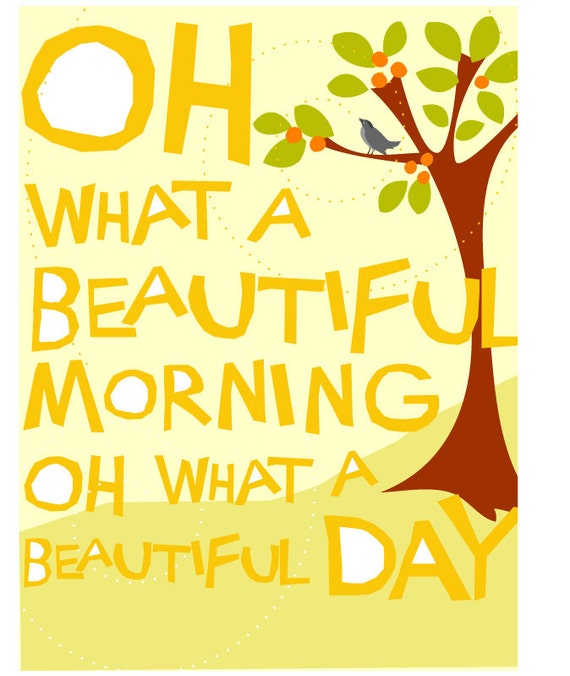 John.